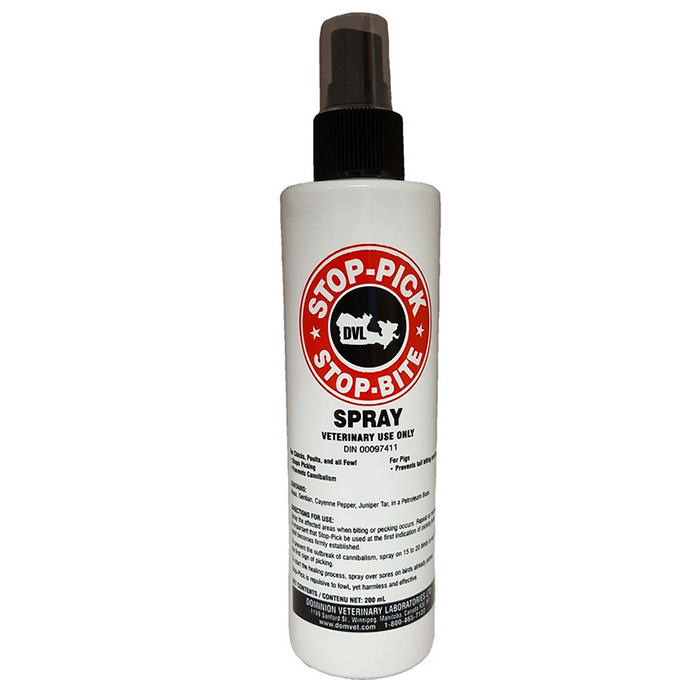 Dominion Vet Labs
DVL Stop-Pick, Stop-Bite Spray 200ML
Item # 260-002392
IN STOCK ONLINE
Size : 2''L x 2''W x 5''H
To prevent tail biting and fighting in pigs, and feather pecking in poultry.
Directions for Use:
Pigs - Spray all pigs equally on their backsand tails when they are put together. Be careful not to hit the eyes and snouts. Spray twice per day the first couple of days. It is usually enough once per day to prevent tail biting and only spray on and around the tail.
Poultry - For use on chicks, poults, and all fowl to stop picking and to prevent cannibalism. Spray the affected areas when biting or pecking occurs. Repeat as necessary.
It is important that Stop-Pick be used at the first indication of picking before the habit becomes firmly established. To start the healing process, apply over sores on birds already picked. Stop-Pick is repulsive to fowl, yet harmless and effective.
Shipping info
Free Truck Delivery
On Orders over $500 before taxes. A $100 minimum order is required for truck delivery with a $50 fee. Orders between $250 - $499 have a delivery fee of $25.
Sharpe delivery routes are limited to specific areas of Ontario, use the postal code feature below to see if you qualify.
Delivery Area
Please enter your postal code to see if you fall within our delivery area and to check shipping lead times.
---
Other Shipping Options
Select shipping options at checkout
Ship to Store Available
Courier Options Available
Orders over $150 (before tax) and shipped by courier qualify for 50% off shipping.
---
Please note that split shipping is not available at this time.