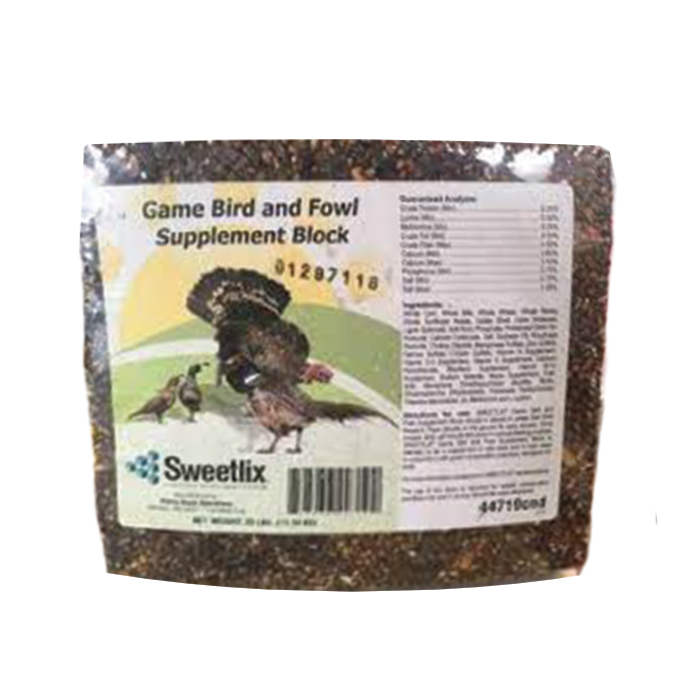 Sweetlix
Sweetlix Game Bird & Fowl Block 25lb
Item # 053-815992
Unit: 25LB
IN STOCK ONLINE
Size : 8''L x 8''W x 25''H
Sweetlix Game Bird & Fowl Block is a designed especially for the needs of wild fowl. Made with wholesome grains, minerals and vitamins critical for growth and egg production, Sweetlix provides essential nutrients.
FEEDING DIRECTIONS
Provide block free-choice to wild birds. It may be necessary to provide more than one block for access purposes. Place blocks in an appropriate feeder or on the ground away form excessive moisture.
Key Benefits:
FEATURES & BENEFITS
Compressed block.
Easy to handle, improved consumption and results in less feed wastage.
High quality protein.
Includes essential amino acids lysine and methionine.
Healthy whole grains.
Provides energy.
Added oyster shell.
Aids in proper digestion.
Satisfies bird's natural pecking tendencies.
Can help alleviate aggressive behavious between birds.
Download The Fact Sheet: https://www.masterfeeds.com/wp-content/uploads/GameBird-Sweetlix-EAST.pdf
GUARANTEED ANALYSIS:
Crude Protein (minimum)8.25%
Crude Fat (minimum)4.0%
Crude Fibre (maximum)4.5%
Calcium (minimum)2.6%
Calcium (maximum)3.1%
Phosphorus (minimum)0.75%
Lysine (minimum)0.3%
Methionine (minimum)0.25%
Shipping info
Free Truck Delivery
On Orders over $500 before taxes. A $100 minimum order is required for truck delivery with a $50 fee. Orders between $250 - $499 have a delivery fee of $25.
Sharpe delivery routes are limited to specific areas of Ontario, use the postal code feature below to see if you qualify.
Delivery Area
Please enter your postal code to see if you fall within our delivery area and to check shipping lead times.
---
Other Shipping Options
Select shipping options at checkout
Ship to Store Available
Courier Options Available
Orders over $150 (before tax) and shipped by courier qualify for 50% off shipping.
---
Please note that split shipping is not available at this time.