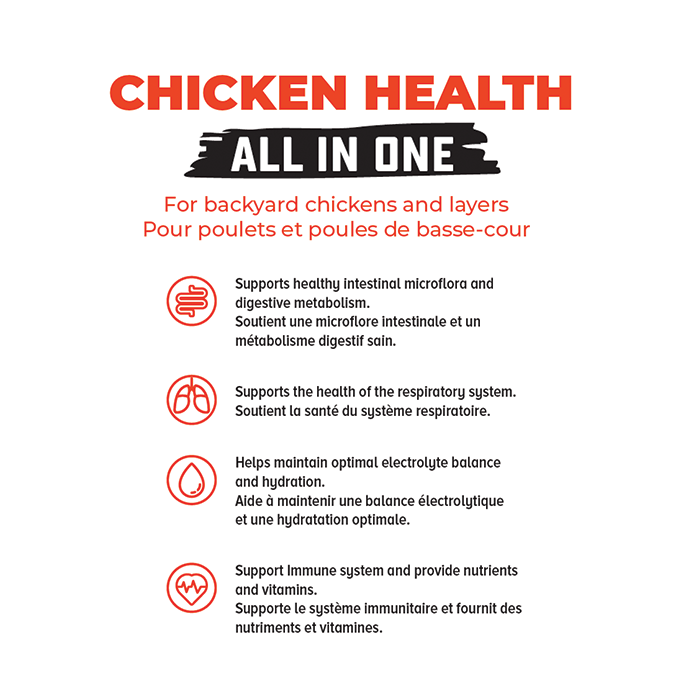 Chicken Health All-In-One 500mL
Item # 220-22008954
IN STOCK ONLINE
CHICKEN HEALTH All in One is a vitamin & mineral supplement formulated for backyard chickens and layers, to help maintain good health in your flock.
Supports healthy intestinal microflora and digestive metabolism.
Supports the health of the respiratory system.
Helps maintain optimal electrolyte balance and hydration.
Support Immune system and provide nutrients and vitamins.
Recommended dose: Shake before use. Add one teaspoon (5 ml) of Chicken Health All in One to one liter of drinking water daily for backyard chickens. Fresh drinking water must be always available to animals. Make sure to have fresh Chicken Health All in One solution daily. 100 day supply.
Shipping info
Free Truck Delivery
On Orders over $500 before taxes. A $100 minimum order is required for truck delivery with a $50 fee. Orders between $250 - $499 have a delivery fee of $25.
Sharpe delivery routes are limited to specific areas of Ontario, use the postal code feature below to see if you qualify.
Delivery Area
Please enter your postal code to see if you fall within our delivery area and to check shipping lead times.
---
Other Shipping Options
Select shipping options at checkout
Ship to Store Available
Courier Options Available
Orders over $150 (before tax) and shipped by courier qualify for 50% off shipping.
---
Please note that split shipping is not available at this time.