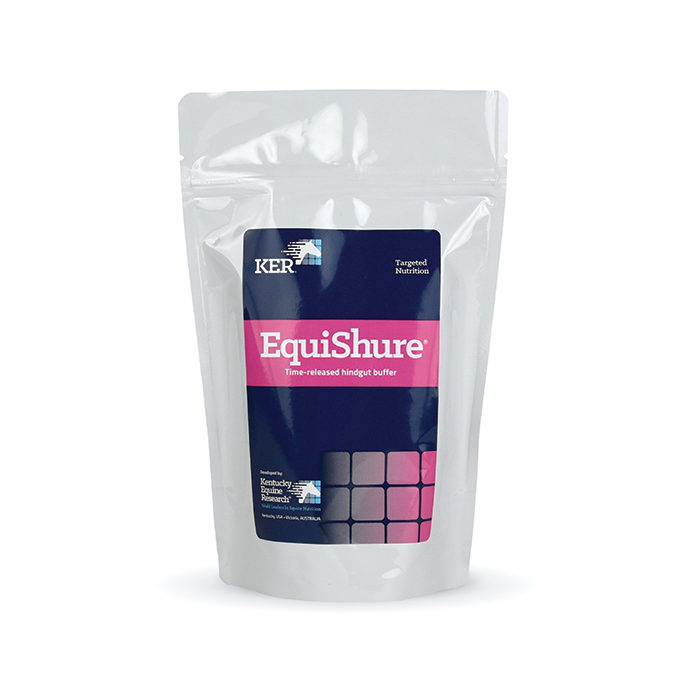 Kentucky Equine Research
KER Equishure 1.25kg
Item # 232-000211
IN STOCK ONLINE
Size : 12''L x 7''W x 3''H
Hindgut buffer for horses with acidosis. EquiShure is recommended for horses on high-grain diets or grazing lush pasture; with inappetence or weight loss; with unexplainable behavioral problems; with digestive upsets resulting in loose manure; prone to recurrent mild colic or laminitis; sport horses under stress of training.
Feeding Recommendations
Top–dress EquiShure on feed.
Feed 30-150g (1-5 scoops) daily according to the horse's size and diet.
For best results, divide the amount equally among feedings.
Use table below to determine recommended daily amount based on horse's grain intake, forage source, and weight.
Weight of Horse
300 kg
500 kg
600 kg
Grain Intake
Forage Source
Amount of EquiShure per day
Low-Moderate
Mostly Hay
30-60g
*60-90g
90-120g
Low-Moderate
Mostly Pasture
30-60g
60-90g
90-120g
Moderate-High
Mostly Hay
60-90g
90-120g
120-150g
Moderate-High
Mostly Pasture
90-120g
120-150g
150-180g
Note: EquiShure can be used in racehorses.
Its use is covered by the Clear Day Rule in the Australian Rules of Racing for the use of alkalinising agents.
Available Pack Sizes
| | |
| --- | --- |
| 1.25kg | 20 day supply* |
| 7.2kg | 120 day supply* |
*based on a 60g serving
Shipping info
Free Truck Delivery
On Orders over $500 before taxes. A $100 minimum order is required for truck delivery with a $50 fee. Orders between $250 - $499 have a delivery fee of $25.
Sharpe delivery routes are limited to specific areas of Ontario, use the postal code feature below to see if you qualify.
Delivery Area
Please enter your postal code to see if you fall within our delivery area and to check shipping lead times.
---
Other Shipping Options
Select shipping options at checkout
Ship to Store Available
Courier Options Available
Orders over $150 (before tax) and shipped by courier qualify for 50% off shipping.
---
Please note that split shipping is not available at this time.