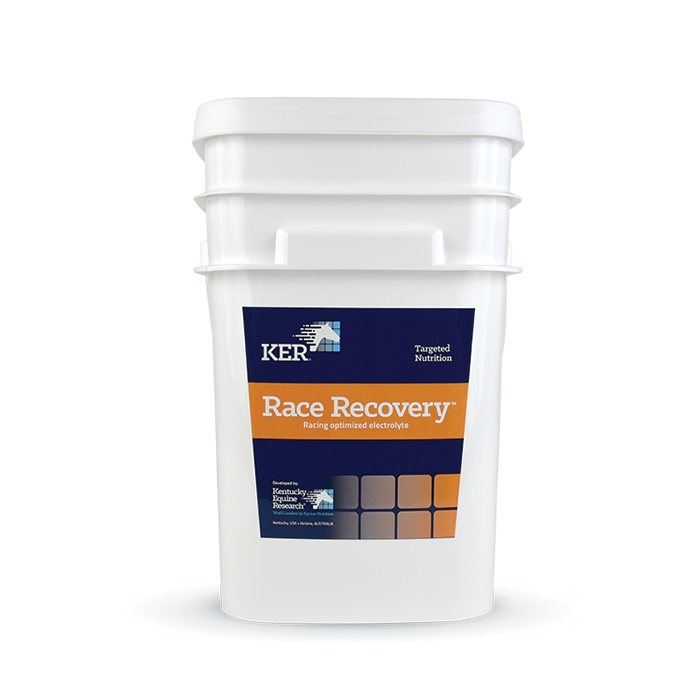 Kentucky Equine Research
KER Race Recovery 18kg
Item # 232-RACE18
IN STOCK ONLINE
Size : 14''L x 9''W x 11''H
Race Recovery provides targeted electrolyte supplementation for intensely worked equine athletes given furosemide, supporting a quick rebound from hard work.

• Provides horses exercised on furosemide with targeted electrolyte supplementation
• Ensures complete, optimally timed electrolyte replacement for intensely worked horses
• Includes highly digestible forms of calcium and magnesium, two key minerals
• Palatable paste and powder formulas ensure consumption
Feeding Recommendations
Administer one tube (60 g) of Race Recovery Paste two to four hours after racing, or as soon as the horse returns to its stall, and a second tube later that night or the morning following the race. Beginning the day after the race, feed one scoop (60 g) of Race Recovery Powder twice a day mixed thoroughly in feed as the horse's daily electrolyte supplement
Shipping info
Free Truck Delivery
On Orders over $500 before taxes. A $100 minimum order is required for truck delivery with a $50 fee. Orders between $250 - $499 have a delivery fee of $25.
Sharpe delivery routes are limited to specific areas of Ontario, use the postal code feature below to see if you qualify.
Delivery Area
Please enter your postal code to see if you fall within our delivery area and to check shipping lead times.
---
Other Shipping Options
Select shipping options at checkout
Ship to Store Available
Courier Options Available
Orders over $150 (before tax) and shipped by courier qualify for 50% off shipping.
---
Please note that split shipping is not available at this time.