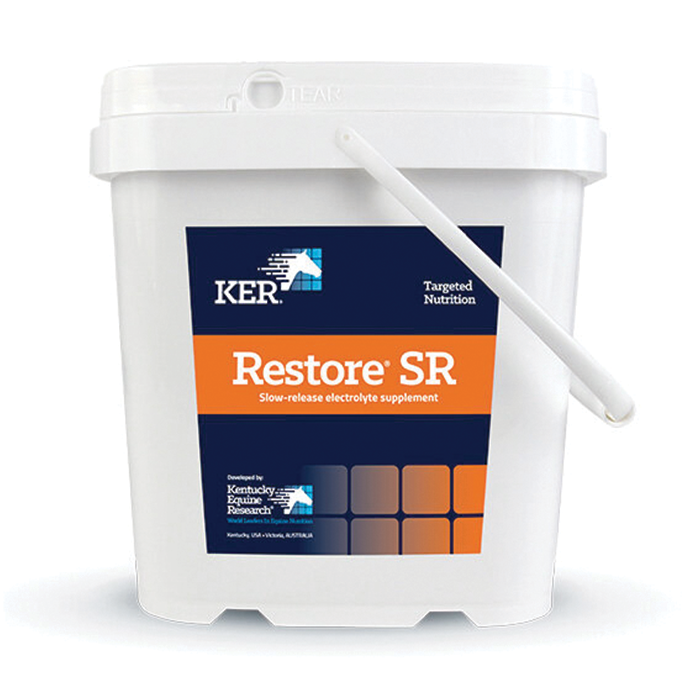 Kentucky Equine Research
KER Restore SR 4.5kg
Item # 232-RSSR4
Unit: 4.5KG
IN STOCK ONLINE
Size : 8.5''L x 7.5''W x 6''H
Restore® SR contains the latest technology in electrolyte therapy, including a proprietary slow-release mechanism that allows sodium
to be released gradually into the gastrointestinal tract for sustained absorption. Feeding a concentrated electrolyte dose causes an immediate surge in blood electrolyte levels. However, a concentrated dose also stimulates increased excretion of electrolytes, flushing out the electrolytes you just fed and shortchanging the horse of vital supplementation. When sodium is delivered slowly over a period of time, more is retained and utilized by the body. Restore SR helps horses retain the electrolytes you provide so they can replenish their reserves in the most optimal manner slowly.

• Slowly delivers sodium and other key electrolytes such as chloride, potassium, and magnesium to replace what was lost in sweat
• Reduces the risk of dehydration, muscular weakness, overheating, fatigue, and poor performance
• Sugar-free formula

Feeding Recommendations
Adjust dose according to sweat loss and work intensity. Divide daily amount fed equally among meals and mix well. Feed Restore SR after
competition, work, or in any situation where the horse has sweated. In addition to Restore SR, all horses should have access to a salt block and free-choice access to water. The following recommendations are for horses with a mature body weight of 500 kg and should be adjusted accordingly.

Light work Visible sweat: 30-60 g
Moderate work Dripping sweat: 60-90 g
Heavy work Extended sweating: 90-120 g
Shipping info
Free Truck Delivery
On Orders over $500 before taxes. A $100 minimum order is required for truck delivery with a $50 fee. Orders between $250 - $499 have a delivery fee of $25.
Sharpe delivery routes are limited to specific areas of Ontario, use the postal code feature below to see if you qualify.
Delivery Area
Please enter your postal code to see if you fall within our delivery area and to check shipping lead times.
---
Other Shipping Options
Select shipping options at checkout
Ship to Store Available
Courier Options Available
Orders over $150 (before tax) and shipped by courier qualify for 50% off shipping.
---
Please note that split shipping is not available at this time.