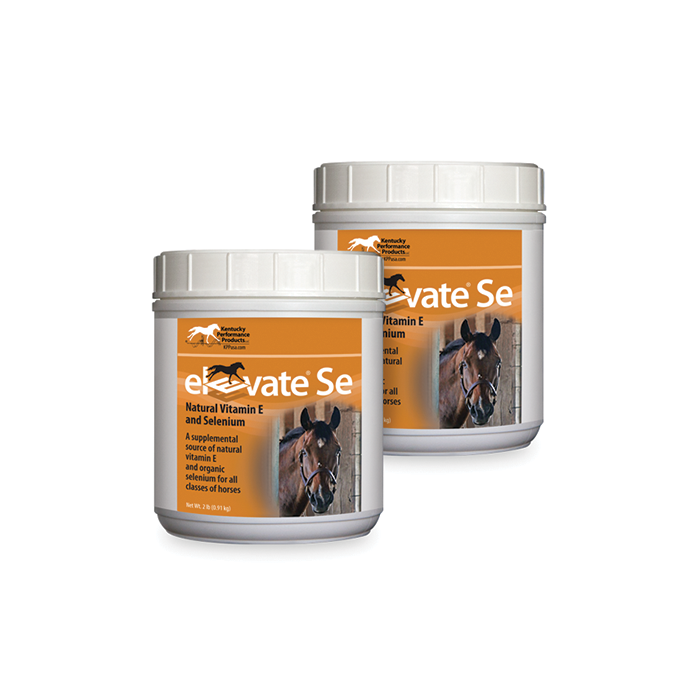 Kentucky Performance Products
KPP Elevate SE 2lb
Item # 237-00025
IN STOCK ONLINE
Size : 6''L x 5''W x 5''H
Elevate Se contains the same highly beneficial, natural vitamin E that is found in Elevate Maintenance Powder. Research has shown that vitamin E is one of the most powerful antioxidants in the equine diet. Most supplements contain synthetic vitamin E (dl-alpha tocopherol acetate), which is not as potent as natural vitamin E (d-alpha tocopherol acetate). Compared to synthetic vitamin E, the body can more efficiently transport and deliver natural vitamin E to target tissues. Research has shown that natural vitamin E is two to three times more potent than synthetic vitamin E. Elevate Se is formulated with an organic source of selenium yeast that is more digestible than commonly used inorganic selenium (sodium selenite). This form of selenium is similar to that which horses would consume in a natural grazing situation. The combination of natural vitamin E and organic selenium yeast found in Elevate Se ensures, in a safe, easy-to-feed and affordable manner, that vitamin E and selenium levels remain where you want them to be.
Shipping info
Free Truck Delivery
On Orders over $500 before taxes. A $100 minimum order is required for truck delivery with a $50 fee. Orders between $250 - $499 have a delivery fee of $25.
Sharpe delivery routes are limited to specific areas of Ontario, use the postal code feature below to see if you qualify.
Delivery Area
Please enter your postal code to see if you fall within our delivery area and to check shipping lead times.
---
Other Shipping Options
Select shipping options at checkout
Ship to Store Available
Courier Options Available
Orders over $150 (before tax) and shipped by courier qualify for 50% off shipping.
---
Please note that split shipping is not available at this time.