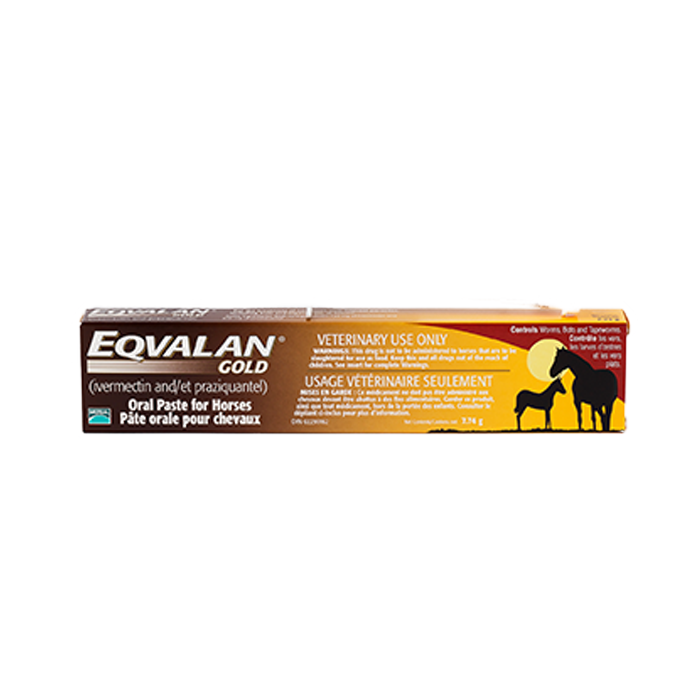 Merial
Eqvalan Gold Paste Dewormer
Item # 230-605120
IN STOCK ONLINE
Size : 2''L x 1''W x 1''H
Eqvalan Gold is a broad-spectrum dewormer. Using both ivermectin and praziquantel it provides a comprehensive parasite treatment for your horse. Eqvalan Gold treats 63 species and stages of equine internal parasites including worms, bots and tapeworms.
Directions for Use:
EQVALAN® GOLD paste is administered orally by means of a disposable syringe at a dose rate of 200 µg of ivermectin and 1 mg praziquantel per kg of body mass. Each mass marking on the syringe plunger delivers enough paste to treat 100 kg body mass. One syringe contains sufficient paste to treat ONE 600 kg horse.
Shipping info
Free Truck Delivery
On Orders over $500 before taxes. A $100 minimum order is required for truck delivery with a $50 fee. Orders between $250 - $499 have a delivery fee of $25.
Sharpe delivery routes are limited to specific areas of Ontario, use the postal code feature below to see if you qualify.
Delivery Area
Please enter your postal code to see if you fall within our delivery area and to check shipping lead times.
---
Other Shipping Options
Select shipping options at checkout
Ship to Store Available
Courier Options Available
Orders over $150 (before tax) and shipped by courier qualify for 50% off shipping.
---
Please note that split shipping is not available at this time.