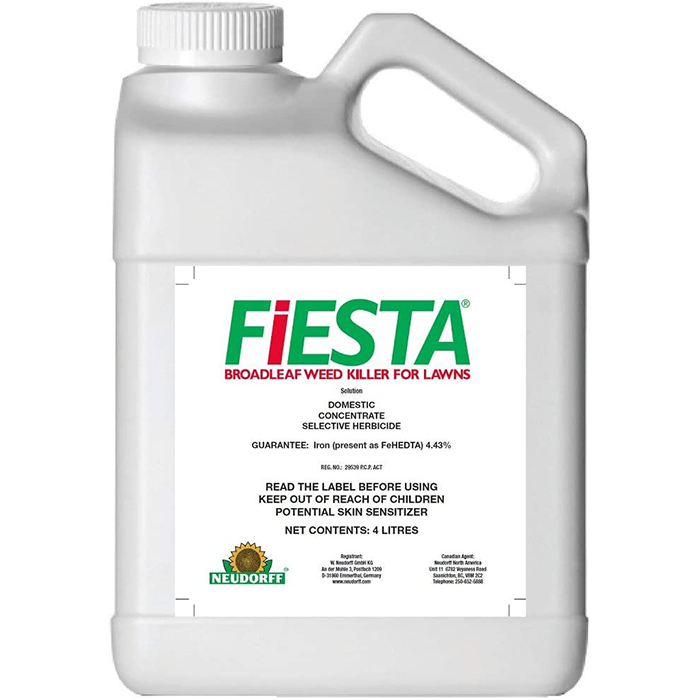 Fiesta
FIESTA 4 LITRE
Item # 400-295354L
Unit: 4L
IN STOCK ONLINE
Size : 8''L x 4''W x 13''H
Fiesta Herbicide contains iron (4.43%) as FeHEDTA. Fiesta controls weeds. For use on lawns and turf (on duty, unharvested areas, golf courses, parks, cemeteries and athletic fields) consisting of one or more of Kentucky blue grass, l 'perennial ryegrass, and fescue (large fescue, chewing fescue and or fescue). Unique formula that kills a variety of weeds including dandelion and clover. Kills weeds in lawns. Control down to the root. - Derived from iron, which occurs in nature - Water based - No unpleasant odor - People and pets can enter the area once the spray is dry - Quick rain in 3 hours - Works quickly, see results in hours - Operates in cold weather 29539 PCP ACT The best weedkiller used in Canada. This product is used by lawn care professionals.
Key Benefits:
For More Information Click Here: Fact Sheet https://www.neudorffpro.org/_content/resources/Fiesta_CAN_homeowner.pdf
Shipping info
Free Truck Delivery
On Orders over $500 before taxes. A $100 minimum order is required for truck delivery with a $50 fee. Orders between $250 - $499 have a delivery fee of $25.
Sharpe delivery routes are limited to specific areas of Ontario, use the postal code feature below to see if you qualify.
Delivery Area
Please enter your postal code to see if you fall within our delivery area and to check shipping lead times.
---
Other Shipping Options
Select shipping options at checkout
Ship to Store Available
Courier Options Available
Orders over $150 (before tax) and shipped by courier qualify for 50% off shipping.
---
Please note that split shipping is not available at this time.