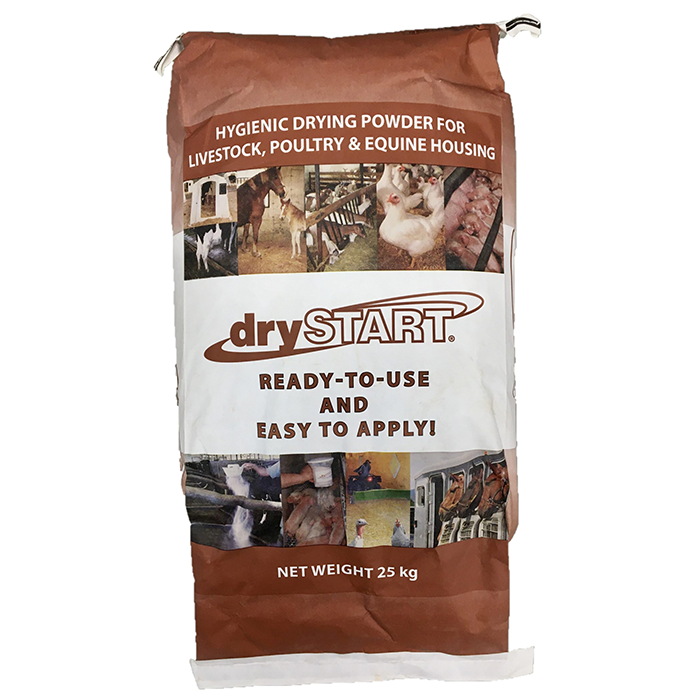 Dry Start
Item # 070-159014
Unit: 25KG
IN STOCK ONLINE
Size : 18''L x 25''W x 11''H
DryStart™ Drying Powder for livestock is used on wet or damp areas weekly to help reduce odours and improve the overall health environment of your operation. Research studies have shown DryStart® to be effective in reducing ammonia by 95% and bacteria 3 times greater than other desiccants tested against it. DryStart is an amazingly effective, drying agent and deodorizer designed for a wide range of species.
Shipping info
Free Truck Delivery
On Orders over $500 before taxes. A $100 minimum order is required for truck delivery with a $50 fee. Orders between $250 - $499 have a delivery fee of $25.
Sharpe delivery routes are limited to specific areas of Ontario, use the postal code feature below to see if you qualify.
Delivery Area
Please enter your postal code to see if you fall within our delivery area and to check shipping lead times.
---
Other Shipping Options
Select shipping options at checkout
Ship to Store Available
Courier Options Available
Orders over $150 (before tax) and shipped by courier qualify for 50% off shipping.
---
Please note that split shipping is not available at this time.