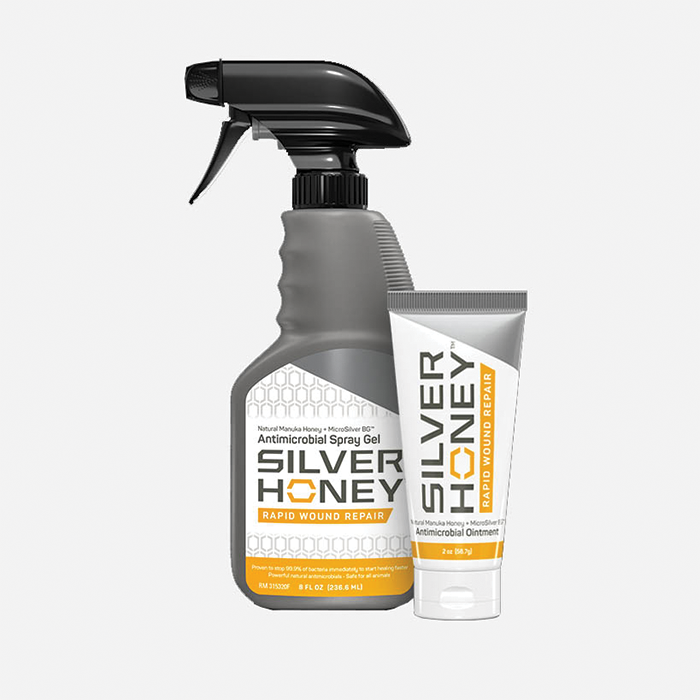 Absorbine
Absorbine Silver Honey Spray 8oz
Item # 230-001457
$25.99
IN STOCK
Size : 8''L x 4''W x 2''H
The first product to combine the natural power of Manuka Honey and MicroSilver™ BG, Silver Honey Rapid Wound Repair is equine wound care that's tough on bacteria but gentle on skin. Its revolutionary formula moisturizes the treatment area as it heals and is proven to stop 99.9% of bacteria immediately to start healing faster. It also protects the skin's natural microbiome, so your horses, ponies and animal companions heal quickly and comfortably.
Effective on cuts, abrasions, sores, rain rot, rashes, fungus, scratches, sweet itch, wounds and burns.
Shipping info
Free Truck Delivery
On Orders over $500 before taxes. A $100 minimum order is required for truck delivery with a $50 fee. Orders between $250 - $499 have a delivery fee of $25.
Sharpe delivery routes are limited to specific areas of Ontario, use the postal code feature below to see if you qualify.
Delivery Area
Please enter your postal code to see if you fall within our delivery area and to check shipping lead times.
---
Other Shipping Options
Select shipping options at checkout
Ship to Store Available
Courier Options Available
Orders over $150 (before tax) and shipped by courier qualify for 50% off shipping.
---
Please note that split shipping is not available at this time.