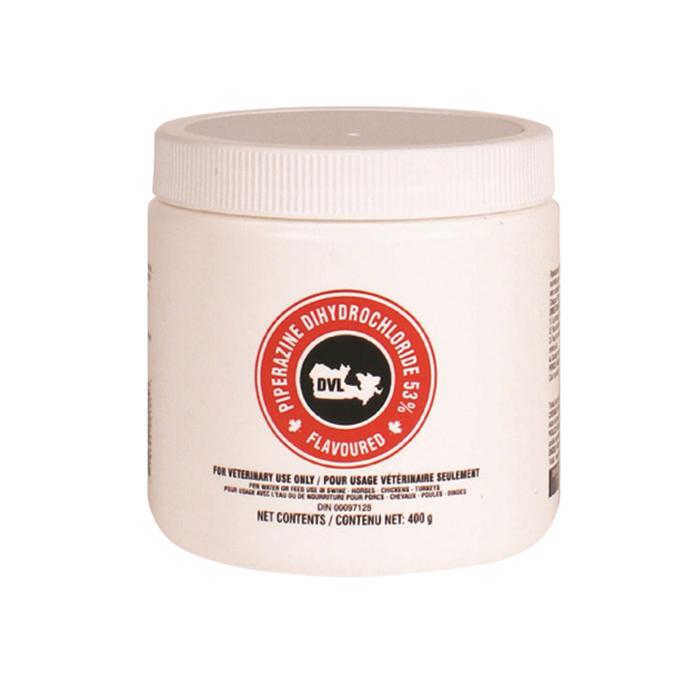 Dominion Vet Labs
DVL Piperazine 53 Soluble Powder 400g
Item # 221-002570
$17.95
IN STOCK
Size : 4''L x 4''W x 4''H
Piperazine Dihydrochloride is used as a one day wormer, either in water or feed, for the control of Round worms in poultry, swine, and horses. It will also control nodular worms in swine, and small strongyles in horses.
Each 100 g of Piperazine Dihydrochloride contains 53 g of piperazine base.
Directions for Use:
SWINE: Mix 400 g with 73 kg feed or 140 L of water. Treat all swine every 30 - 45 days starting at 10 weeks of age.

HORSES: Mix 2 teaspoonful per 45 kg body weight. Add to 4.5 L of water per horse. Withhold water for 12 hours before treating.

CHICKENS: Mix 400 g with 200 kg feed or 325 L of water. This will treat 1250 layers or 3100 broilers. Treat birds every 30 - 60 days starting at 6 weeks.

TURKEYS: Mix 400 g with 110 kg of feed or 380 L of water. This will treat 620 turkeys. Treat all birds every 30-60 days starting at 6 weeks.
Shipping info
Free Truck Delivery
On Orders over $500 before taxes. A $100 minimum order is required for truck delivery with a $50 fee. Orders between $250 - $499 have a delivery fee of $25.
Sharpe delivery routes are limited to specific areas of Ontario, use the postal code feature below to see if you qualify.
Delivery Area
Please enter your postal code to see if you fall within our delivery area and to check shipping lead times.
---
Other Shipping Options
Select shipping options at checkout
Ship to Store Available
Courier Options Available
Orders over $150 (before tax) and shipped by courier qualify for 50% off shipping.
---
Please note that split shipping is not available at this time.