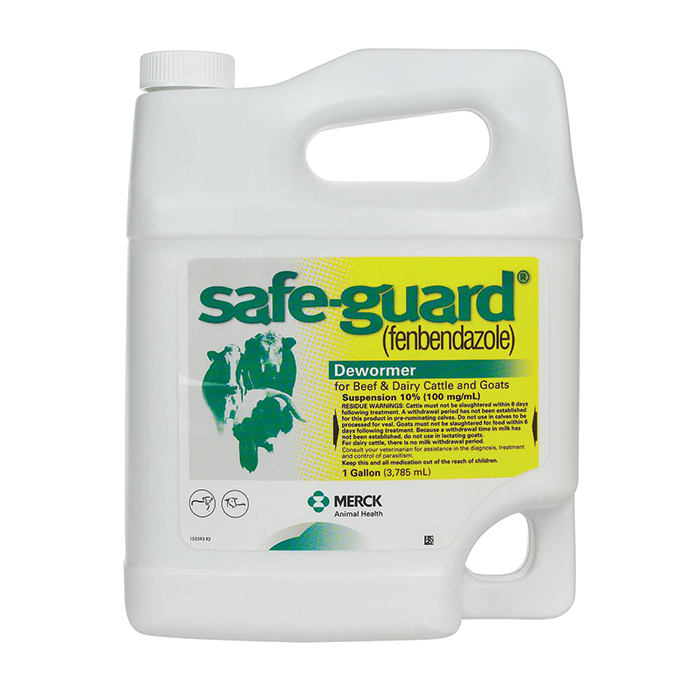 Merck
Safeguard Suspension 3.8L
Item # 230-063719
Unit: 3.8L
$634.99
IN STOCK
Size : 10''L x 8''W x 4''H
Cattle and horse dewormer used to aid in the control of: brown stomach worms, small stomach worms, barber pole worms, bankrupt worms, coopers worms, thread-necked intestinal worms, nodular worms and lungworms. 3.785 L treats 167,000 lbs of cattle or horses.
Directions for Use:
The recommended dose is 5 mg of fenbendazole per kg of body weight for cattle and horses (10 mg/kg for foals under 18 months).
100 mg of fenbendazole
Shipping info
Free Truck Delivery
On Orders over $500 before taxes. A $100 minimum order is required for truck delivery with a $50 fee. Orders between $250 - $499 have a delivery fee of $25.
Sharpe delivery routes are limited to specific areas of Ontario, use the postal code feature below to see if you qualify.
Delivery Area
Please enter your postal code to see if you fall within our delivery area and to check shipping lead times.
---
Other Shipping Options
Select shipping options at checkout
Ship to Store Available
Courier Options Available
Orders over $150 (before tax) and shipped by courier qualify for 50% off shipping.
---
Please note that split shipping is not available at this time.