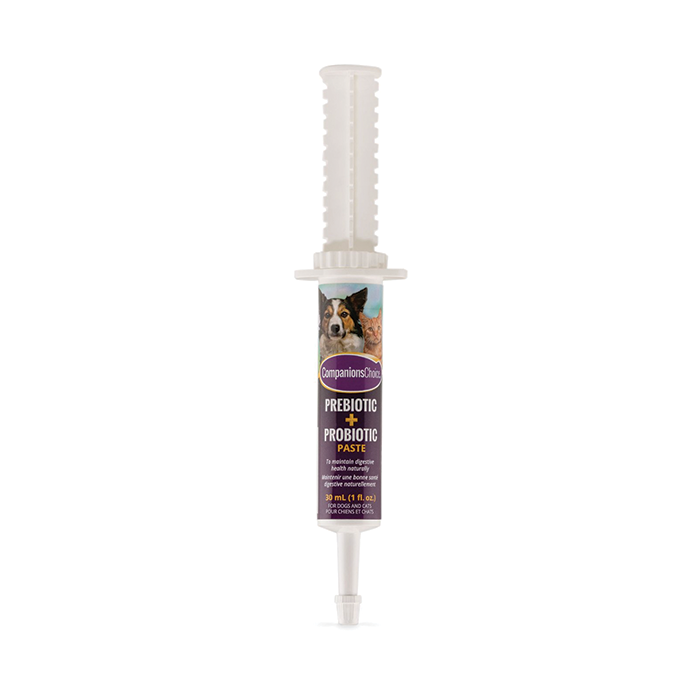 Companions Choice
Companions Choice Pre & Probiotic Paste 30mL
Item # 200-1170
IN STOCK ONLINE
A highly digestible concentrated paste to assist in the immediate reduction of symptoms such as sore stomachs, diarrhea, loose stool, and disruptions in your pet's digestive system.
Companions Choice Prebiotic + Probiotic Paste assists in microflora repopulation in acute digestive upsets or as a loading dose for the daily powder supplement.
Adding Companions Choice Prebiotic + Probiotic Paste will result in:
Treating digestive issues such as excessive gas, bloating, vomiting, and diarrhea

Increased water consumption to prevent dehydration

Better immune response and quicker recovery times from illness or surgery

Increase performance due to the proper functioning digestive system

Lowered stress and anxiety levels

Added antioxidant benefits

Reduction of toxins in the system
Product Type: Size:
Paste 30 ml
Feeding Rate:
1mL/5kg body weight
Shipping info
Free Truck Delivery
On Orders over $500 before taxes. A $100 minimum order is required for truck delivery with a $50 fee. Orders between $250 - $499 have a delivery fee of $25.
Sharpe delivery routes are limited to specific areas of Ontario, use the postal code feature below to see if you qualify.
Delivery Area
Please enter your postal code to see if you fall within our delivery area and to check shipping lead times.
---
Other Shipping Options
Select shipping options at checkout
Ship to Store Available
Courier Options Available
Orders over $150 (before tax) and shipped by courier qualify for 50% off shipping.
---
Please note that split shipping is not available at this time.