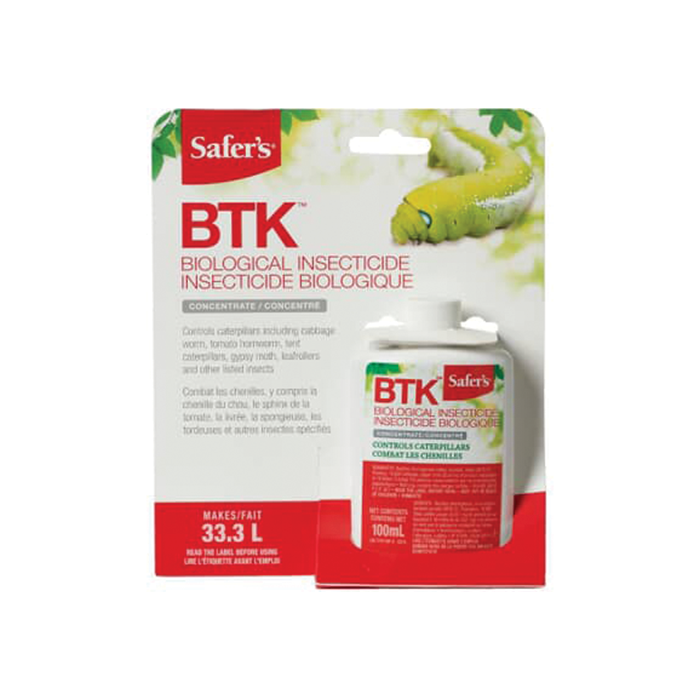 Safers BTK Insecticide Concentrate 100mL
Item # 400-2110CAN
IN STOCK ONLINE
Safer's® BTK Caterpillar Killer is a biological insecticide that controls caterpillars including cabbage worm, tomato hornworm, tent caterpillars, gypsy moth, leafrollers, and other listed insects. Simply mix the concentrate with water and spray on vegetables, fruit, trees, and ornamentals. After ingesting the treated portion of the leaf, caterpillars stop feeding within hours and die within a few days. This 100mL concentrate makes 33.3L of solution.
Shipping info
Free Truck Delivery
On Orders over $500 before taxes. A $100 minimum order is required for truck delivery with a $50 fee. Orders between $250 - $499 have a delivery fee of $25.
Sharpe delivery routes are limited to specific areas of Ontario, use the postal code feature below to see if you qualify.
Delivery Area
Please enter your postal code to see if you fall within our delivery area and to check shipping lead times.
---
Other Shipping Options
Select shipping options at checkout
Ship to Store Available
Courier Options Available
Orders over $150 (before tax) and shipped by courier qualify for 50% off shipping.
---
Please note that split shipping is not available at this time.