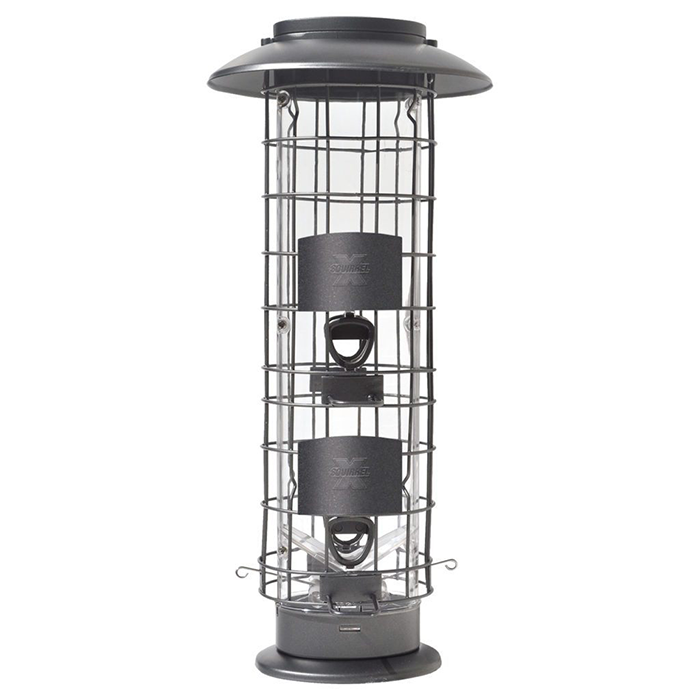 Squirrel-X
Squirrel X4
Item # 212-106
IN STOCK ONLINE
Feed birds (not squirrels!) with the revolutionary Squirrel-X4 Squirrel-Resistant Bird Feeder! If a squirrel tries to feed on any of the 4 integrated perches, the X4's spring-loaded design shuts every port simultaneously, stopping racketeering rodents right in their tracks. As if that wasn't revolutionary enough, the X-4 is making bird feeding easy™ with its SureFill No Spill™ features. Its spring-loaded, push-button top effortlessly opens with one touch, single-handedly taking away the bird feeder refill juggling act! In a gunmetal finish, its durable squirrel-resistant metal frame includes 4 large rounded perches to attract more birds. With a 1.5 lb. seed capacity, the Squirrel-X4 combines strength & style to bring you the ultimate in squirrel-resistant bird feeding and your best defense against squirrels!
Shipping info
Free Truck Delivery
On Orders over $500 before taxes. A $100 minimum order is required for truck delivery with a $50 fee. Orders between $250 - $499 have a delivery fee of $25.
Sharpe delivery routes are limited to specific areas of Ontario, use the postal code feature below to see if you qualify.
Delivery Area
Please enter your postal code to see if you fall within our delivery area and to check shipping lead times.
---
Other Shipping Options
Select shipping options at checkout
Ship to Store Available
Courier Options Available
Orders over $150 (before tax) and shipped by courier qualify for 50% off shipping.
---
Please note that split shipping is not available at this time.