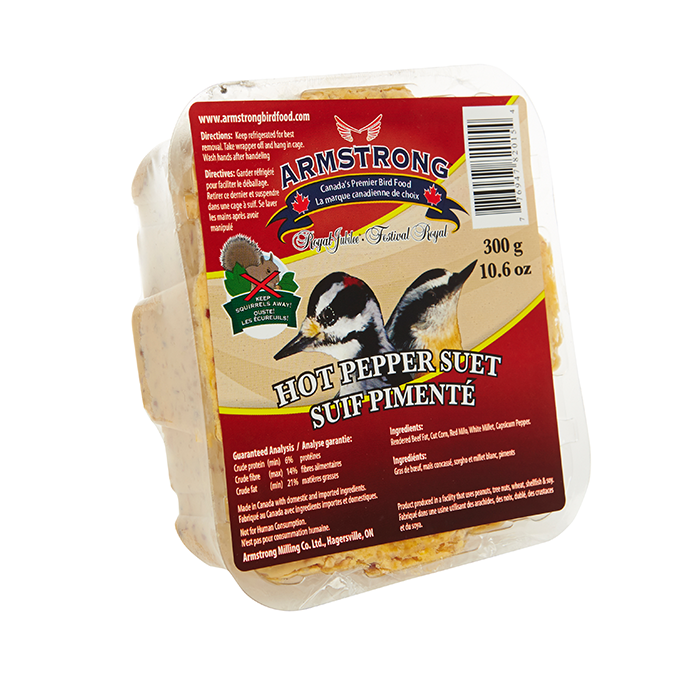 Armstrong
Armstrong Hot Pepper Suet 300g
Item # 211-301240
IN STOCK ONLINE
Size : 4''L x 2''W x 4''H
Beef tallow based snack for wild birds – full of high energy nutrients! Liquid beef fat is blended with a mix of grains & seeds and made into a slim cake. Armstrong Hot Pepper Suet is made with liquid hot pepper to deter squirrels (who can taste the hot pepper when wild birds cannot). Best fed during colder weather months.
Armstrong Hot Pepper suet contains: Rendered Beef Fat, Cut Corn, Red Milo, White Millet, Capsicum Pepper.
Attracts: Downy Woodpeckers, Hairy Woodpeckers, Red-bellied Woodpeckers, White-breasted Nuthatches, Red-breasted Nuthatches, Northern Flickers, Black-capped Chickadees, Dark-eyed Juncos
Shipping info
Free Truck Delivery
On Orders over $500 before taxes. A $100 minimum order is required for truck delivery with a $50 fee. Orders between $250 - $499 have a delivery fee of $25.
Sharpe delivery routes are limited to specific areas of Ontario, use the postal code feature below to see if you qualify.
Delivery Area
Please enter your postal code to see if you fall within our delivery area and to check shipping lead times.
---
Other Shipping Options
Select shipping options at checkout
Ship to Store Available
Courier Options Available
Orders over $150 (before tax) and shipped by courier qualify for 50% off shipping.
---
Please note that split shipping is not available at this time.